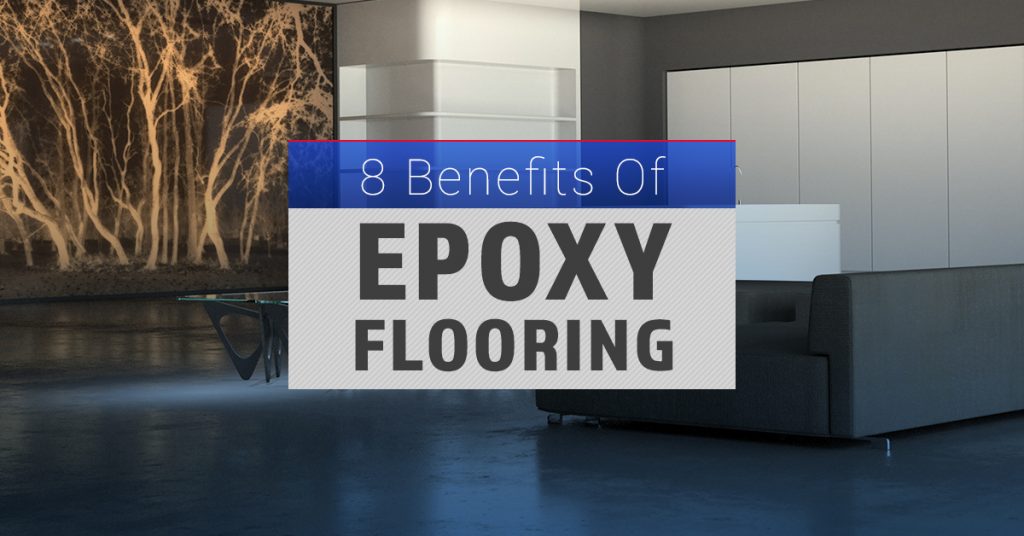 If you own a warehouse, industrial space, factory, or manufacturing plant, and are in need of new floors, you've likely been poring over your options. If this is the case, you've surely come across the idea of epoxy-coated floors. And if you haven't, congratulations! You just did.
Coating your floors in epoxy is one of the best options on the market. Whether you have a restaurant, store, plant, factory, or some other industrial space, it is a superb solution with long-lasting effects. It's also a solution that we at All West Surface Prep know very well. So to assist you in your search for the perfect flooring solution for you, we have put together a list of the advantages of epoxy coating.
Here are 8 advantages of coating your concrete floor with epoxy:
It's Easy to Clean
After a concrete floor has been coated with epoxy, it becomes sealed and no longer porous. This prevents any kind of spill—grease, dirt, oil, chemicals, etc.—from penetrating the floor, which makes cleaning a breeze. For example, with our high-quality polished floors, we tell our clients there is no need to ever wax!
It's Easy to Designate Space
Because of the array of available colors and patterns, labeling and designating your floors to coordinate with your warehouse needs or industrial space is simple. For example, if you want to label where forklift operators are permitted to go, or where safety zones end and begin, epoxy coating is the perfect solution for clearly and cleanly making these distinctions.
It's Cost Efficient
Not only is a concrete floor coated with epoxy cheaper than other flooring alternatives, but it is also an investment that pays off in the long run—i.e its durable and resilient nature requires very little maintenance and repairs, and it can last for decades, which means you keep more money in your pocket.
It's Extremely Durable
Concrete floors that have been coated in epoxy are remarkably resilient. Not only does their solid polymer finish prevent chemical breakdown, but it is also resistant to chemical exposure, making it perfect for warehouses and factories that use strong, corrosive chemicals. And as an added bonus, they are also resistant to chipping, denting, and abrading.
It's Quick, Easy, and Clean to Install
When compared to other types of flooring, like wood and tile, epoxy flooring is quick and relatively simple to install. This is especially true when you enlist the services of the concrete professionals at All West Surface Prep. Utilizing our state-of-the-art equipment, like our Blastrac Dust Control Systems, we are able to limit the amount of dust covering. Additionally, with our quick, yet thorough, installation you can ensure that your business does not have to shut down production for a long period of time.
It's Safe
Floors coated with epoxy are resistant to acid and oil penetration, as well as bacterial growth, making them perfect for food services and packaging, pharmaceutical preparation, medical facilities, and other settings where sanitation is of the utmost importance. In addition, the shiny, high-gloss of epoxy can improve your facilities reflectivity by up to 300%, thus creating a brighter, safer environment.
It's Environmentally Friendly
Epoxy coating is considered a "green" building material. This label is, in part, because of the chemical breakdown of the epoxy solution, and also because of the reduction in material usage. For example, not having to regularly clean your floors with strong chemicals and solutions helps save money and resources over time. Similarly, by taking advantage of the way glossy coated floors illuminate your facility, you will be able to cut back on spending and electrical usage, which ultimately helps minimize adverse effects on the environment.
It Looks Beautiful
Epoxy coatings are available in a wide variety of colors and patterns. At All West Surface Prep this is certainly the case. We have an extensive collection, ranging from calm earthy tones to vibrant colors. And our talented crew has extensive experience turning commercial concrete floors into shining works of art.
Interested in learning more about epoxy-coated flooring? Contact All West Surface Prep!
We are Colorado's premier experts in concrete flooring projects. If you need a concrete floor resurfaced, ground, leveled, polished, or coated, we're ready to help. If you want it done ASAP, call AWSP.