If you want it done ASAP call AWSP!
Do you have a big job that needs to be done? We provide top-notch, professional concrete prep services all over Colorado – from Denver, Boulder, Colorado Springs, Vail, Breckenridge, Cheyenne, and Laramie, Wyoming. Our award winning concrete prep services have provided successfully polished floors in schools, hospitals, garages, retail stores and industrial facilities. Some of our previous projects have included the CSU dormitories, North Face clothing, and Wings Over the Rockies.
We have the knowledge, the tools, and the expertise to do the job right. We use diamond polishing to work through all the years of use and bring the concrete back to a shiny, glossy surface you can be proud to show off. Our standard equipment includes 2 Diamatic 780 grinders, 1 Diamatic 535 grinder, and a state-of-the-art dust collection system for all grinders that adds to production capacity. We also have a compliment of tried and true products we use to get the best results for industrial concrete polishing.
A real key is proper densification and proper blending from the edges to the middle of the floor is what sets our team at All West Surfaces Prep far above the rest. We also provide a 10 year warranty on our work. You can be confident that we also use methods to ensure environmentally responsible services that manages the VOCs your customers may be concerned about. We are here to prevent problems and provide solutions. If you work with us, you will be able to stand by our work as well as yours.
We engage in conscious safety practices to prevent injury and reduce complications in quality and safety due to dust. AWSP experts will confer with you on surface cracks and any structural concerns as well as scaling, or corrosion issues. Since we do a considerable amount of work in high traffic areas, clear communication and a high level of awareness prevent slips, trips, and falls for our team and our customers. We systematically apply years of expertise into making the safest, most amazing, and durable surfaces in town.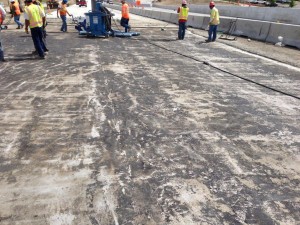 We take floors that have been beaten and abused, repair stress fractures, air bubbles, joint sealing, nicks, salt damage and trip hazards in order to make concrete more durable in a cost effective way for both you and your clients. Licensed, bonded, and insured, we are confident in our flooring techniques and you will be, too.
Concrete polishing takes dedication so that new scratches are not created by the process and we have the skill to make sure you are 100% satisfied. Whether you're working on a school in Boulder, a ski lodge in Veil, or a garage in Cheyenne, we will work with you to get the results you require.
We know that, in this economy, you have no time to worry that your business partners and sub trades are doing their jobs and we will provide you with prompt, efficient service all over Colorado- from Denver, Boulder, Colorado springs, Vail, Cheyenne, WY and others.