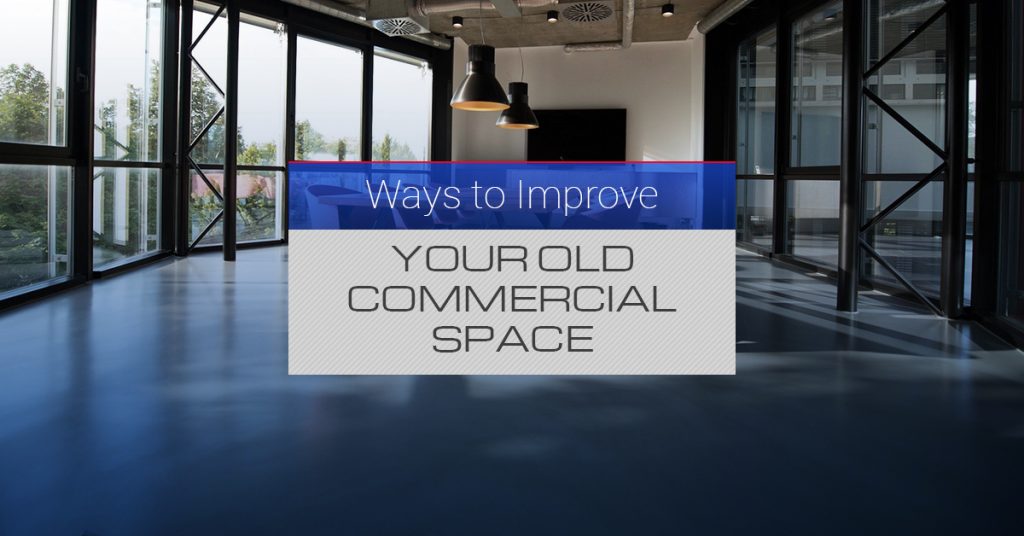 Whether it's a restaurant, retail space, factory, office, or some other operation, remodeling a commercial space is a big undertaking. Unlike a home, a commercial remodel takes more time and can affect more people, and if you're trying to perform these remodels while still keeping your business or operation running, things can become even trickier.
If you are the proud new owner of a commercial building, you may be wondering how you can improve the area and increase its property value. At All West Surface Prep, we have worked with a number of clients who were starting businesses or remodeling existing ones. In today's blog, we would like to share with you just a few of the possible ways you can accomplish this.
Update Curb Appeal
One of the easiest and most cost-effective ways to improve a property is to upgrade the facade of your building as well as improve on the surrounding landscaping. Though a total facade overhaul can be costly, simple changes like adding a fresh coat of paint with an up-to-date color scheme can make all the difference. Similarly, adding some trees, shrubs, flowers, and other common landscaping features can drastically improve curb appeal.
Other approaches may include updating a building's signage. If you have an old worn out sign or a cheaply made one, making the investment in a new sign can add value to your place. A new sign will not only give the building character and a personal quality, but it will also help attract more attention and customers—if you are running a business.
Add Amenities
Depending on what kind of commercial property you have, the simple addition of a few key amenities can improve the appearance, satisfy tenants or customers, and enhance property value. Whether this means adding a full kitchen to an office space, a new deck to a restaurant, or some other value-creating addition, amenities can bring the kind of comfort and value that will please users and enhance worth.
Improve Lighting
If you're looking to improve a retail space, enhancing the lighting can be a simple, yet ultra effective, way to create a new mood in your store. When doing this consider your existing theme, merchandise that you want to draw attention to, and be sure to be cognizant of the overall mood and ambiance you want your space to evoke.
Go Green
Though it can be pricey, adding eco-friendly features to your new commercial space can have great long-term effects, like an overall decrease in utility and electric costs. This may include the addition of solar roofs, and energy-efficient appliances and lights. In some places, this can not only save you money, but it can also earn you tax breaks and incentives.
Get Concrete Floors Resurfaced
If you are the new proud owner of a commercial or industrial space with old worn floors, you may be thinking that a total replacement is too costly to be a viable option. However, one thing you likely haven't considered is the power of concrete resurfacing.
As Denver's concrete flooring experts, we at All West Surface Prep have earned a reputation for saving floors that have been deemed by their owners as being unsalvageable. When you opt to resurface your commercial floors instead of going with a replacement, you can:
Save money
Save time
Save resources
Get beautiful end results
Get a floor that is durable and built to last
Not only can we make your floors appear new, but because we have extensive experience and expertise, we can tailor your floor to meet your exact needs. For example, after expertly prepping your floor we can apply a variety of coatings that will make your floor resistant to scratches, dents, abrasions, and even spills—making them perfect for most commercial and industrial floors. On top of this, we also have a wide variety of designs, dyes, and colors to turn your floors into a durable work of art.
Check out some of our completed projects here!
If you decide that you want to update your concrete floors, we encourage you to contact the flooring experts at All West Surface Prep. Because of our unrivaled experience, expertise, and industry-leading technology, we can complete a number of jobs quicker than most, which makes us the perfect option for those looking to quickly remodel their commercial floors. Contact All West Surface Prep today to learn more.