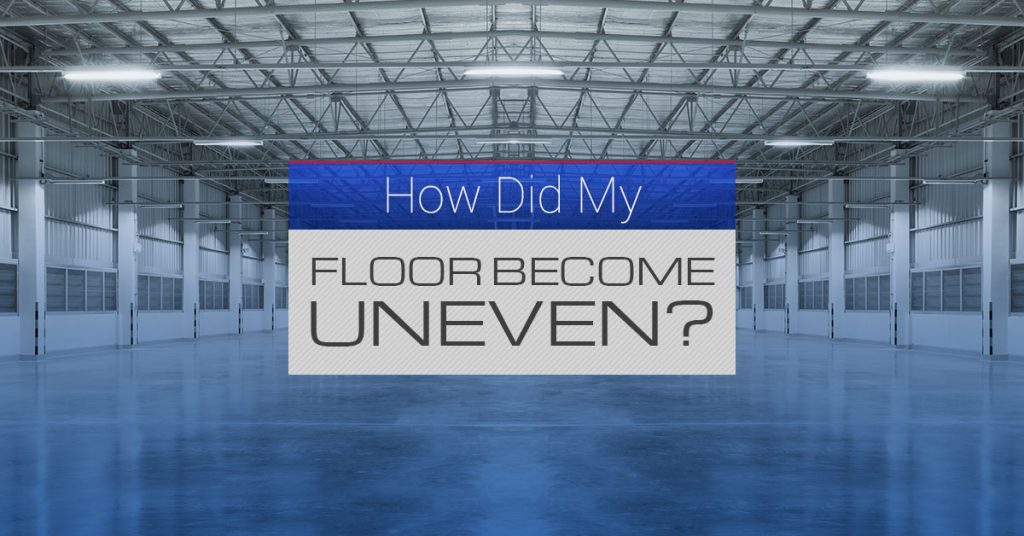 Sometimes it's hard to notice uneven, sloped floors. Other times it's clear as day. You can easily imagine placing a marble or ball at your feet and watching it race to one side of the room. When the slope of your floor is extreme, this typically means you have foundation problems. Specifically, your foundation has settled or sunken unevenly. There are a number of problems that will arise when this happens including floor, wall, and ceiling cracks; wet basements or crawlspaces; and water stains.
When you start to notice these signs, it's time to contact the professionals. Not only should you contact foundation experts to inspect your foundation and come up with a solution, but once you have ensured that your foundation is sound, you should also contact an expert concrete flooring contractor, like All West Surface Prep. In this situation, we can likely save your cracked, uneven commercial floors. We are able to fill the cracks, prepare the surface, and turn your old commercial concrete floors into a level, durable, and highly-functional piece of art.
Often times uneven floors are the result of a shift in the soil, specifically when:
The Foundational Soil is Weak
: Some soils are not able to bear the weight of a big structure, like a home or industrial facility. This can be because of a natural weakness in the soils or because the soil wasn't properly compacted before starting construction.
The Moisture Level of the Soil is off
: When there is too much moisture underneath or around the foundation this can directly affect the foundation walls, leading to water stains and water damage. When the foundation area is too dry, the soil can shrink and create an under-supported foundation.
The Soil Becomes Consolidated
: Large structures like homes and buildings can sometimes compress soil-fill and push it into the clay soil beneath, causing the structure to fall below its original position.
If this is the case in your home or commercial space, professional help is needed sooner rather than later. After the foundation specialists have assessed and fixed your foundation, the next step will be to contact concrete flooring experts. If you are in the Colorado area be sure to contact All West Surface Prep. We are experts in concrete flooring projects.
What to Expect from All West Surface Prep
When you contact All West Surface Prep to save your old, worn-out floors, you will get a crew of professional worker with unrivaled experience and expertise. Our concrete flooring experts are trained and ready to provide a range of services:
Leveling
With some of the most powerful equipment in the Rocky Mountain region and well-trained crews, we are able to level floors of any size to a 1/32" degree of accuracy.
Moisture Mitigation
Having a completely moisture free surface is essential to any concrete surfacing project. That is why we use only the most top-notch moisture mitigation systems.
Polishing
With our wide range of tools, knowledge, and experience, we can turn your concrete floor into a durable, functional, shining work of art.
Surface Prep
Proper prep is essential to concrete resurfacing and the success and longevity of any floor. We take this very seriously and have the absolute highest standards when it comes to prepping your floors.
Caulking
We can remove old caulking and recaulk these joints with high-grade caulking.
Coatings
We have an array of coatings that are resistant to abrasion, scratches, dents, and even spills—the perfect commercial flooring option.
Sealing
Our variety of sealers give you the perfect economical flooring solution. These floors are remarkably dense, easy to clean, and extremely durable.
Dust Control
This is the extra step we take to leave a project site better than we found it. To limit the amount of clean up, we use some of the largest vacuums on the market.
Quick Completion
We take pride in our slogan: "If you want it done ASAP, then call AWSP." After calling us, we can often be on
site the very next day.
Contact Denver's top concrete flooring contractors today to learn more about concrete leveling and how you can transform your old commercial or industrial floors into beautiful, durable floors that can last for decades. Request a quote today!