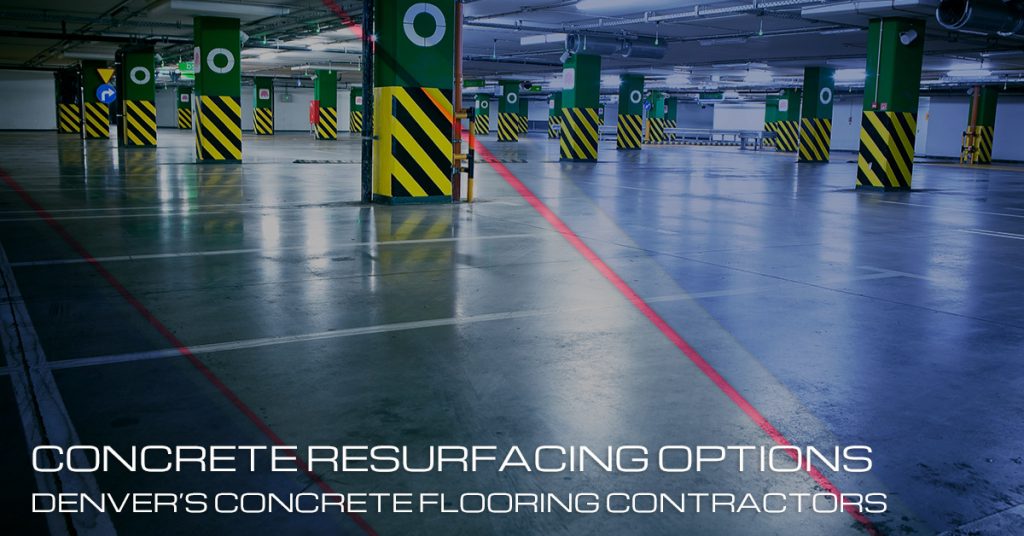 At All West Surface Prep, we take great pride in servicing Colorado and surrounding states, and we are proud to offer a wide array of concrete services—concrete repairs, concrete polishing, concrete resurfacing, concrete coatings, and more. In today's blog, we are going to discuss a few of our key services and options for you. If you are in the process of looking for concrete refinishing and resurfacing in the greater Denver area, contact us today to learn more about your options and to get your free quote!
What Are Common Concrete Repairs?
If you have been shopping around for concrete contractors, you have likely run into the problem of being told that the best solution for concrete repair is to tear up the existing floor and repour the concrete—essentially starting anew. This is, of course, the more expensive option and, often times, it is not entirely necessary. There are all sorts of instances where a simple repair is enough. For example, broken, spalling, crumbling, and cracked concrete can often be repaired when taken on by an experienced and well-equipped concrete company. If you have begun to notice any of these issues, they will only get worse in time. Don't wait until it becomes a bigger and more costly issue. Contact All West Surface Prep—a concrete repair company that has extensive experience saving old worn-out floors.
What Is Concrete Resurfacing?
An integral part of any concrete refinishing or resurfacing job is the products used. Good concrete contractors will use industry-leading products. These type of products are reliable, won't leave your concrete floor peeling or flaking, and will last for many years to come. Similarly, just as important as the products used, the surface preparation is a crucial component of any resurfacing job.
Surface prep is so important to our process that it even made its way into our name—All West Surface Prep. Our thorough preparation process includes concrete grinding, shotblasting, leveling, moisture mitigation, and creating a surface that is ideal for facilitating the strongest possible bond with the new polymers, giving you the durable foundation you need to have a surface that is built to last.
Below are some of the benefits of concrete resurfacing:
Cost-effective
Speedy application time
Variety of colors and designs to choose from
Long-lasting
Resistant to stains, moisture, and abrasion (especially when coated)
What Are Concrete Coatings?
Once your old concrete floor has been thoroughly prepped, you will then have the option of adding a concrete coating. There are a wide variety of coatings and sealants available, and we go to extra measures to carry some of the best in the industry.
Many commercial and industrial floor coatings are remarkably strong and able to resist abrasion, strains, moisture, chemicals, and more. This resistance makes them perfect for retail stores, hospitals, warehouses, airports, and other commercial and industrial settings! On top of all of this, if you work with an experienced concrete company, they will be able to add decorative and beautifying colors, textures, and more. At All West Surface Prep, we are proud to offer a range of concrete coatings, textures, and designs techniques to help your commercial space have the exact look you desire. From epoxy floor coatings to urethane, contact AWSP to begin transforming your floor.
What Is Polished Concrete?
Polished concrete floors have earned a reputation for being reliable, low-maintenance floors that save building owners money in the long run. Polished concrete floors are not only remarkably durable, but they can also be made to be extremely great-looking—especially when accompanied by acid staining or dyed concrete.
Polished concrete floors are incredibly easy to take care of, require very little maintenance, and they can increase the reflectivity of the space, and be made to be slip-resistant. Many people have come to see polished concrete as a cost-effective and beautiful alternative to other types of commercial flooring, like tile, linoleum, and granite. Polished concrete works exceptionally well in warehouses, retail stores, restaurants, office buildings, and more! Learn more about polished concrete here!
At All West Surface Prep, polished concrete is one of our specialties. All over Colorado and the surrounding area, our polished concrete floors can be found in local facilities, schools, retail stores, restaurants, and various other commercial spaces.
What Can You Expect From Professional Concrete Contractors?
When you partner with a concrete company to handle all of your concrete services, you should expect, first and foremost, beautiful, long-lasting results. On top of this, you should expect the following:
Responsiveness
Works within the agreed timeframe
A team that listens and responds to individual requests
Superb cleanup
These are all things that we at All West Surface Prep take pride in providing to each and every one of our customers. In fact, we have earned a reputation for being Colorado's go-to concrete flooring contractors. For over 25 years, we have been performing concrete refinishing, grinding, leveling, prepping, polishing, and much more. In addition to using all the industry-leading techniques and products, we also use cutting-edge technology and equipment. This helps us not only ensure that your floor is built to last, but it also gives us the capability to keep your commercial floor and space sparkling clean—we use state-of-the-art dust control methods to cut out any exhausting and time-consuming post clean up.
If you are in Colorado or surrounding states and currently have old, worn out concrete floors that you would like to update, contact us! Even if you are not sure which option best suits you, our concrete flooring experts can help find the application that most appropriately suits you and your facility.