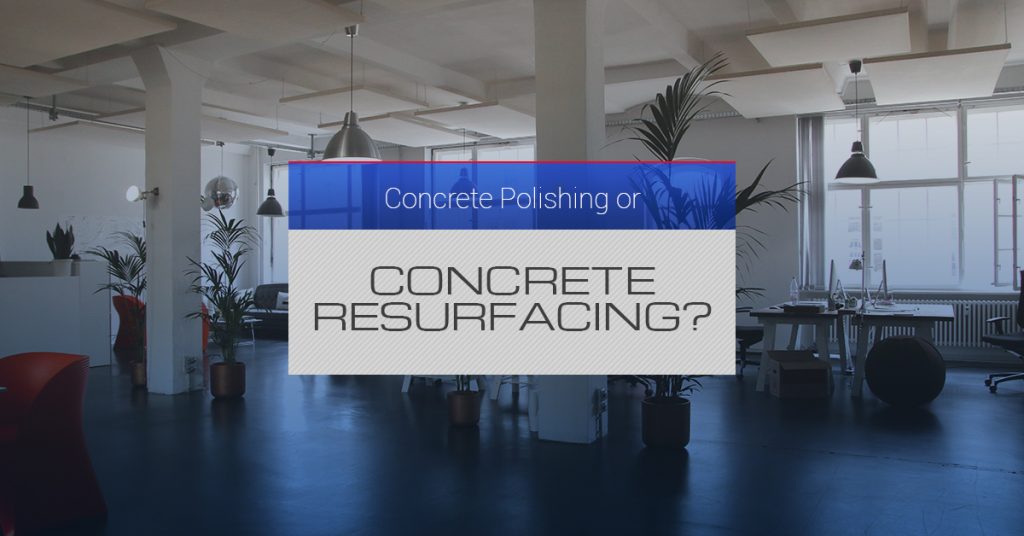 Do you have a commercial or industrial floor that has seen better days? Worried you need a completely new floor? Curious about your options? In today's blog, we at All West Surface Prep will hopefully help you navigate some of these questions, or at least, expose you to two popular options—concrete polishing and concrete resurfacing. As commercial flooring contractors, we often get asked which is better, concrete polishing or concrete resurfacing. And we often answer this by saying, both options offer you a durable, great-looking, long-lasting floor, and the type that is right for you depends on preference and circumstance.
If you are in the Denver area and are in need of surface prep, concrete resurfacing, concrete polishing, concrete grinding, concrete leveling, and more, contact us today. Check out our work, get your free quote, and call us with any questions! Below are some things to consider when choosing between concrete polishing and concrete resurfacing.
Condition of Current Concrete
More often than not, relatively sound concrete floors can be polished. However, there are occasions where some floors—mostly those with serious issues, like spalled areas and extensive patchwork—may be better candidates for concrete resurfacing. By resurfacing your floor and adding a decorative concrete overlay, you can disguise most, if not all, of the old abuse and wear and tear.
To truly assess the condition of your commercial flooring, it is best to contact an experienced concrete flooring contractor—professionals who have experience determining what floor best suits your needs and expertly executing concrete flooring services. At All West Surface Prep, we are proud to say that we have earned a reputation for saving old, written-off floors. If you need a professional assessment of your commercial or industrial concrete floors, contact us today!
Desired Look of New Commercial Flooring
Though both polished concrete floors and resurfaced concrete floors offer a wide array of decorative options, dyes, stains, etc. With resurfaced floors, however, you will have slightly more options including overlays and textures. In addition to the aesthetic appeal, concrete resurfacing is extremely easy to maintain and clean, and it is ultra-durable, making these types of floors perfect for restaurants, warehouses, and manufacturing facilities. Also, if you prefer the glossy, high-luster look of polished concrete but your floor requires a total resurfacing, there is always the options of a polished overlay.
One of the great things about having 25 years of experience with concrete refinishing and resurfacing is that we have gotten pretty good at what we do. Everyone in our crew is experienced and trained in major polishing system manufactures. Whether you need a new floor for a restaurant, hotel, retail store, or anything in between, we have experience working with an array of designs, dyes, and colors, allowing us to confidently say: we can turn your floors into a durable, shining work of art. Don't believe us? Check out some of our most recent flooring projects!
Expected Performance of New Industrial Flooring
It could probably go without saying, but when choosing what type of commercial flooring is right for you, it is crucial to think about the performance goals for your floor. Both polished and resurfaced floors are extremely durable. However, because of the densification and polishing process, polished concrete floors are slightly more durable. They are remarkably dense and resilient, making them perfect for high-traffic areas. On top of this, polished concrete floors are also loved for being ultra-easy to maintain. They will never require waxing or sealers. Whereas, resurfaced floors with decorative overlays will generally require some type of coating or sealer to protect it from wear and tear.
As you can see, there are a number of things to consider when trying to decide between these two popular flooring options. If you are still unsure about what type of floor is most suitable for you and your commercial or industrial space, contact All West Surface Prep! Additionally, please take some time to check out our website, our project gallery, and be sure to contact Denver's concrete flooring experts to schedule a consultation.
For more information on polishing and resurfacing, check out our old blog on the benefits of polished concrete as well as this blog on concrete resurfacing.