The Ultimate Concrete Prep Services in Cheyenne, Laramie, and WY
Concrete has been used exclusively in industrial setups for floors mainly due to its durability. Owing to heavy traffic, moisture exposure, and chemical abrasion usually experienced in warehouses, food processing plants, garages, and other establishments, concrete becomes exposed and eventually gets destroyed. General contractors must put in place a mechanism to counter gradual wear and tear caused by the aforementioned reasons, and that includes treating with a special concrete coating. This coating does not only provide an extra protective edge, but it also acts as a dress-up to a dull floor surface as well as enhancing resistance to skid. Many industrial facilities have had to put up with regular floor maintenance services that cost them significant amounts of money.
Cheyenne, Laramie, WY Contractors buy from the best!
Besides protection, there are several reasons for concrete coating in industries, but ideally, All West Surface Prep is all about guarding floor surfaces against continuous deterioration, providing easier maintenance options, improving physical performance, and adding beneficial properties such as aesthetics, chemical resistance, and non-skid. It is a no-brainer, floors are subjected to all kinds of abuse, and chances are, they are more likely to get disfigured, taking away all the gloss on walls and ceilings on an entire business.
The greatest problem facing architects and property managers today is the inability to choose the most effective application for the best performance, at the most reasonable cost. That notwithstanding, contractors in the larger Colorado are becoming fully aware of what they need for their industrial floors; and that is concrete coatings to counter the daily wear and tear. The idea is to acquire the proper material or application to improve performance, and at the same time to significantly reduce the cost of floor maintenance in the long run.
When you should consider Industrial Concrete Coatings Cheyenne Laramie WY
One of the surest methods of improving overall business performance is maximizing production and cutting on operating costs. As a reputable contractor, there are four basics that will necessitate concrete coating, and more importantly, the nature of coating the system needs:
The amount of chemical exposure. There is a big discrepancy between the nature of chemicals used in an industry and the severity of exposure to these chemicals. Constant contact with chemicals is far more dangerous than random spills and splash, and that should determine the kind of concrete coating the floor in question needs.
The amount of abrasion. How quickly a concrete floor wears down boils down to the amount of traffic it is subjected to. For instance, a surface exposed to steel-wheelers requires a more solid floor treatment for long-term wear as compared to rubber-wheelers.
Thermal shock. The material selected for coating must be considerate of the temperature fluctuations, for example, cleaning floors with steam can cause a gradual loss of bond; therefore, proper coating material must be chosen.
Impact. A heavier or thicker flooring system will be ideal for direct impact and heavy loads.
Why All West Surface Prep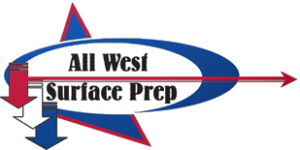 All West Surface Prep is a reputable company that provides Industrial Concrete Coatings Cheyenne Laramie WY and other parts of Colorado, including Denver, Colorado Springs, Breckenridge, Boulder, and Vail. As professionals, we understand different industrial flooring needs and our services are geared towards providing these industries with unbeatable concrete coating materials for improved business operations.