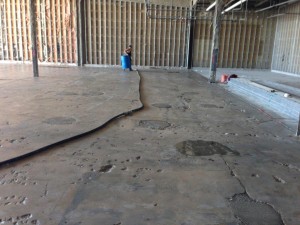 If the concrete floors inside your industrial building are pitted, broken, and cracked; that may be posing a safety hazard. More so, they may be delaying daily tasks and disrupting production. Fortunately for All West Surface Prep Denver CO, concrete along other types of flooring can be resurfaced, thereby giving them the feel, look, and durability of new floors. AWSP offers Industrial Commercial Concrete Overlays in Denver CO.
All West Surface Prep that serves Denver has been in this business of concrete repair resurfacing, coating, and polishing for a very long time. It delivers its services with experience and professionalism working in almost every industrial and commercial setting imaginable. All West Surface Prep Colorado offers many floor surfacing systems and concrete repair services that give quick and economical solutions for repairing concrete curbing, sidewalks, garages, pool decks, and flooring. All our systems offer total resistance to corrosion, chemicals, extreme temperatures and abrasion while at the same time giving you a durable and appealing finish that lasts. They are all easy to clean, slip and mold resistant, and are presented to you with a variety of colors.
From epoxy resin to noise absorbent systems and stone systems, the seamless applications offered here seal the concrete to get rid of odors, dampness, and allow for logos, designs, or borders. Given that some aspects of a commercial building are as important as the floor, it is crucial to have cracked concrete repaired in due time. Typically, commercial and industrial facilities get stains on concrete floors, with vibrant machinery, heavy loads, and forklift traffic. These are some of the major elements that lead small cracks into big problems.
Based in Colorado, All West Surface Prep offers services to neighboring Laramie, Breckenridge, alongside other nearby towns. The commercial and industrial contractors here are known for their expert interior concrete repair services. They repair, grind, and resurface your concrete, ensuring that the restoration of a level, safe, and an attractive surface is regained. Our contractors work around the clock to minimize downtime in your industrial or commercial facility.
Ideally, it is wrong to ignore cracks in any concrete floor given that they can create liability concerns and hazardous conditions. With time, your uneven surface may cause severe injuries and become a cause of falls. Running across forklifts, raised cracks, bump and sway can lead to an uneven and dangerous shift of loads. Also, merchandise or stacked machinery may tip over as the cracks expand and shift. More so, debris and moisture tend to collect in concrete cracks, giving way to microbial growth.
For these major reasons, you need to alleviate the said concerns. It is vital to repair your concrete, and faulty expansion joints the moment a problem surfaces. Commercial and industrial concrete flooring must be administered resurfacing projects that focus on a deep understanding of the working environment. Not only are we prompt whenever needed, but we also use quality products for quality results bearing in mind that concrete has to stand up to the tough Colorado weather and the seasons that keep changing. Let All-West Surface Prep CO be your trusted concrete service provider. Contact us today and receive a professional evaluation of your industrial or commercial concrete floors.