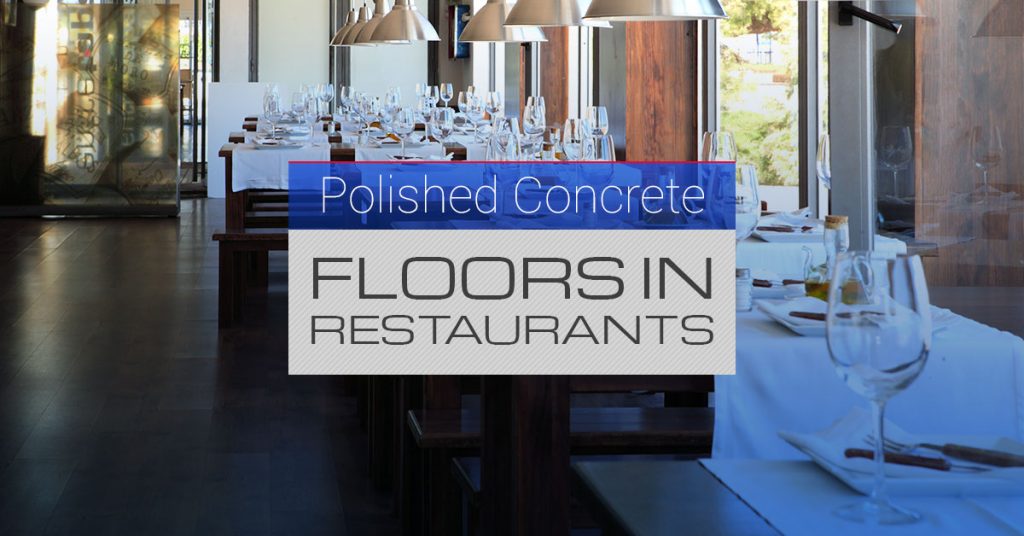 Unlike residential spaces, the floors in a food service establishment are required to meet high standards: 1) the space must be positively safe and capable of accommodating a significant number of people, 2) because it is a space where food is prepared, it must be sanitary and easy to clean, 3) it must be aesthetically appealing and enhance the restaurant's ambiance and brand, and 4) because it sees a lot of traffic and usage, it must be durable. With polished concrete floors, this is exactly what you get.
Today we're going to take a closer look at how polished concrete floors are an excellent commercial flooring option, particularly in one very common commercial space—a restaurant.
Safe for Patrons and Employees
When it comes to restaurant safety, polished concrete floors are ideal. Not only does the coating repel spills and make clean up a breeze, but it can easily be textured or coated to be slip-resistant, thus preventing the of employee and customer injuries.
Sanitary and Easy to Clean
In restaurants and other food services, sanitation is of the utmost importance, which is easily why polished concrete floors are such a great option for restaurants. When you coat your concrete floors with a strong, industrial floor coating, like epoxy, you are significantly improving sanitation. Not only are epoxy-coated floors easy to clean, but they are also resistant to acid and oil penetration, and even bacterial growth, making them perfect for restaurants.
Matches the Ambiance
When trying to come up with a look for floors, we make the process collaborative and find a solution that combines your wants and needs with our experience and suggestions. We work with each client to develop a concept and theme that matches the space and the restaurant's goal. For example, recently we completed the floors for Zengo Asian Bistro. They were looking for something elegant and simple, yet original and interesting. In the process of trying to meet their demands, we created a fairly new process. We used a metallic coating and rolled it tight. Then, using a crack chaser, we cut the floor with fake cracks, and then filled those cracks with a lustrous, gold metallic epoxy. The result of this unique process is a truly unique and stunning floor that not only matches the restaurant's ambiance, but also gives them a work of art that furthers their brand and drives in more business.
Durable and Long Lasting
On any given day, the floors of restaurants can take a beating. On top of heavy foot traffic, tables and furniture is likely to be moved around, heavy items and glassware regularly dropped, and a host of other substantial blows. The good news is that all of this will have little impact on concrete floors. Polished concrete floors are incredibly resilient. They are resistant to chipping, denting, and abrading, and they can last for decades.
To learn more about installing polished concrete floors in your Denver area restaurant, call All West Surface Prep, Denver's top concrete flooring contractors. Remember, if you want it done ASAP, call AWSP!