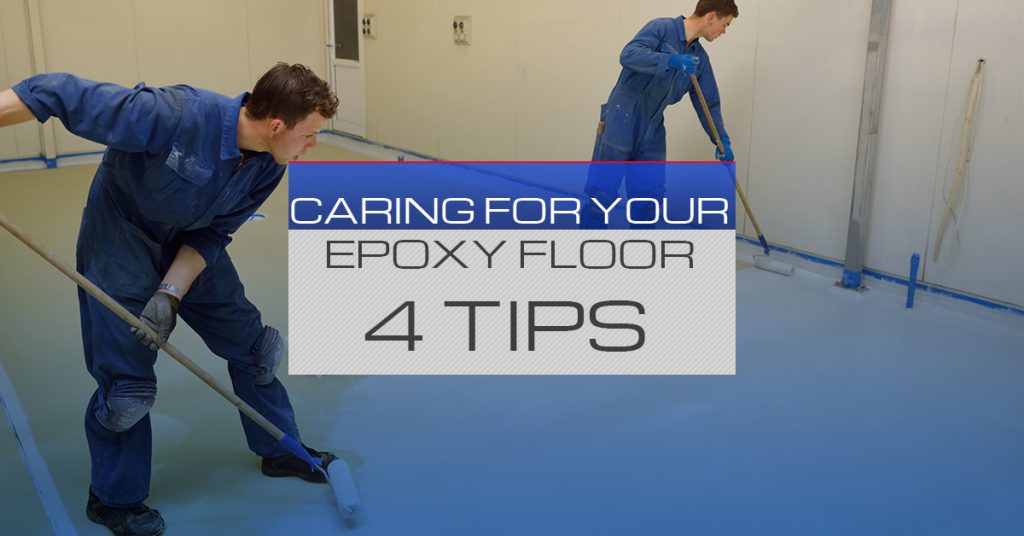 As we've mentioned before, there are many benefits to epoxy floor coatings. They are durable, cost-effective, versatile, and when installed by concrete flooring experts, they can be a highly-functional work of art. At All West Surface Prep, we take pride in being able to provide these type of epoxy floors. Not only are we Denver's go-to epoxy flooring contractors, but we are also all-around experts when it comes to concrete flooring. From surface prep to concrete grinding, leveling, polishing, and more, All West Surface Prep has the knowledge, equipment, and crew to handle all of your concrete flooring needs. Check out some of our past projects and call us today to consult with a flooring expert.
Often found in garages, industrial floors, and commercial spaces, epoxy looks great and works well in a number of environments. Essentially, epoxy coating is composed of two key parts—a resin and a hardener. These two components react to one another, and when properly applied, the epoxy hardens, resulting in a resilient and solvent and chemical-resistant finish. Not only does this provide a shiny, glossy finish that is resistant, but many epoxy contractors are able to add a non-slip surface and other features, making your new floor ready to take on the messiest, busiest, and heaviest challenges. However, as resilient as epoxy floor coatings are, they do require some maintenance and cleaning to keep them living up to their potential. Here are some tips for cleaning your epoxy floor.
Clean Up Grit
Though epoxy floors can endure a lot of scratches before they ever begin to show signs of damage, it's important to keep the surface free of dirt and grit. This is especially true if you are moving vehicles and heavy machinery on and off the floor—these heavy objects will only speed up the wear and tear process. The best way of cleaning up dirt and debris is simply using a shop vacuum. Unlike other types of flooring, epoxy doesn't easily harbor dirt and grime, making cleanup a piece of cake.
Wash
After you have picked up all debris and dirt with a shop vac or broom, your floor can easily be mopped with a hard foam mop, hot water, and a solution (no acidic solutions needed—these will actually break down the epoxy catalyst). Additionally, when cleaning your epoxy floor, avoid soap-based cleaners. Solutions with soap often leave a hazy coat on the floor that will build up over time. Epoxy floors do not need soap. A simple solution of warm water will typically do the trick. If, however, you have an especially dirty floor, you can use a solution comprised of water and ammonia.
Spot Clean Regularly
One of the best techniques for keeping your floor clean is to spot clean regularly. Often times, your floor doesn't need a comprehensive, total clean. It's simply enough to vacuum or sweep the floor where something has spilled or been tracked in. Depending on the scope of the mess, you may also need to scrub the floor with some water (remember, no soap or strong cleaners are needed). Because epoxy coatings are remarkably resistant to the absorption of liquids, cleaning up spills is quite simple.
Remove Stains
Stains, like rust, can form on your epoxy floor. However, most of them can be easily removed simply with a little hot water and a scrub pad. Typically, the quicker you are to clean up the stains, the easier they will be to remove. Once again, you do not need steel wool or abrasive cleaning chemicals to tackle this job. A simple water-based solution will do the trick.
Although epoxy coatings are extremely durable, they are not entirely indestructible. Similarly, though they have earned a reputation for their cleanliness, this does not mean that they don't get dirty or collect dust. Rather, it means that they conceal dirt naturally, making them appear clean. To keep your epoxy floors looking great, follow these simple cleaning tips.
If you are interested in getting your concrete resurfaced and installing a fresh epoxy coating, contact All West Surface Prep today. We are Denver's concrete flooring experts, specializing in industrial and commercial floors. Check out our coatings gallery! With every job we do, we leverage our experience, expertise, and industry-leading equipment to deliver superior results—and do so faster than most! It's why we take pride in saying: if you want it done ASAP, call AWSP!