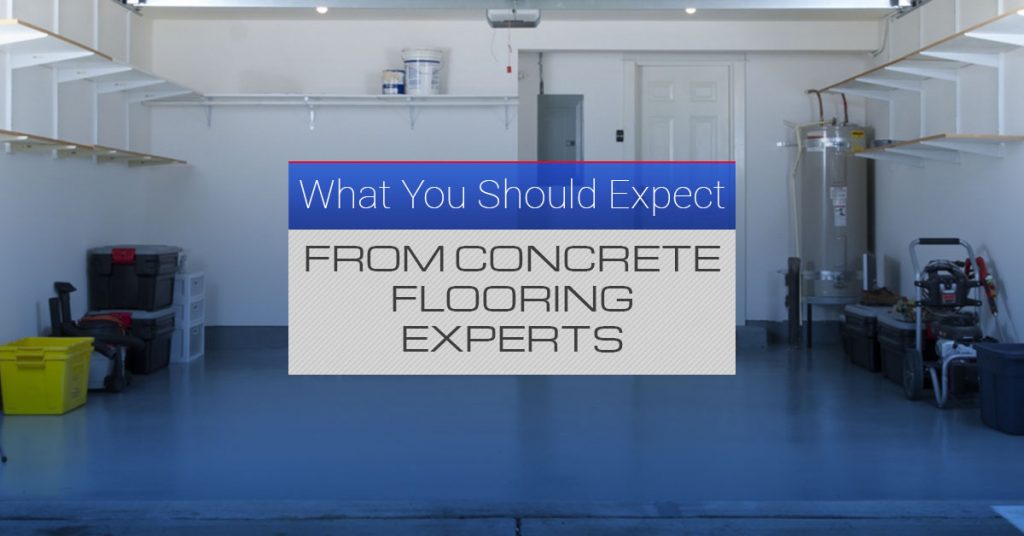 If you're looking to get your commercial or industrial floors resurfaced, you're likely scouring the web for concrete flooring contractors and trying to decide who best suits your needs (hopefully, that's how you stumbled upon this page, and hopefully, you continue to read on and explore what AWSP has to offer!). If this sounds like you, we've got just the thing to help you on your search. In this blog, we are going to discuss what we think all concrete flooring contractors should guarantee when taking on a job.
At All West Surface Prep, we have over 25 years of award-winning experience, a crew of certified and skilled professionals, and an absolute commitment to getting a job done quickly and exactly to your liking. From concrete resurfacing to concrete polishing, we are your go-to industrial, retail, and commercial flooring experts.
Read on to learn what all concrete flooring contractors should guarantee.
Top-notch Products
As with many trades, the quality of the end result is largely dependent upon the products used during the creation. At All West Surface Prep, we take pride in using only the finest products. Not only do we use industry-leading merchandise, but we are also able to explain the function of each to our customers. We think this is something that all concrete flooring contractors should be able to do. Being able to explain how each product works ensures that they have the knowledge and expertise to make confident suggestions and recommendations that are tailored toward your needs. Check out some of our most used products here.
Superb Prep Work
While some companies may not see prep work as being one of the most important aspects of the concrete resurfacing process, we do, and we think this is something that all concrete resurfacing contractors should do. Whatever condition your floor is in, we will grind your concrete down and remove all tough, uneven layers, which will then allow your old concrete to form the strongest possible bond with your new concrete.
Another big component of our surface prep process includes moisture mitigation. As we've mentioned before, the success of a concrete flooring project is dependent upon moisture mitigation and concrete prep work. When a surface is not free of all moisture it can lead to a whole host of costly problems. This is why we use industry-leading mitigation materials and tests to ensure that your concrete floors are rid of all moisture.
Expert Execution
After making sure that your floor has been properly prepared, professional flooring contractors know the job isn't finished. To create a long-lasting, beautiful floor, skillful execution is required. This includes making all appropriate repairs and then adding the necessary concrete coating, polishing, sealants, and densifiers that will create a resilient surface layer that meets the client's needs.
At All West Surface Prep, we make sure the high-performance coatings you choose are expertly put in place and ready to withstand the wear and tear of decades of commercial or industrial use. And if you opt for polished concrete, we are confident that we can give your floor the exact look you want. Whether it's a well-done blend from the edges to the middle of the floor or a unique design that complements the theme of your restaurant or retail space, our skillful crew has the experience and expertise to turn your floor into a durable work of art.
Check out some of the benefits of epoxy flooring here. And to get an idea of the level of execution we expect, check out our project gallery.
Above-and-Beyond Clean Up
Concrete work is messy. Grinding concrete and removing old layers of tough coatings can leave your facility coated in a thick layer of dust that can take a great deal of time and effort to clean up. This is why we do all we can to mitigate the messy effects of concrete prep work. To help us achieve this we use industry-leading dust control systems and the largest, most effective vacuums on the market—dust collectors made by Blastrac and Ruwac.
In short, we take pride in leaving a project site in better condition than when we found it. When we finish a job, the only sign of us you'll see is a pristine, resurfaced concrete floor.
Speedy Completion
Getting your concrete floors resurfaced is a big undertaking, and for businesses, it often means temporarily shutting down. Quality commercial flooring contractors are cognizant of this and do all they can to get your business back in operation.
At All West Surface Prep, we take great pride in being speedy. Because of our unrivaled experience, knowledge, and the fact that we own our own equipment, we can complete jobs faster than most. We once, for example, shot-blasted a 50,000 square foot facility in seventeen hours—which is why we are confident in saying: if you want it done ASAP, call AWSP! After calling us, we can often be on site the very next day.
When looking for flooring contractors in the Denver area, be sure to keep the above-listed information in mind. And if a concrete contractor tells you that your floor is beyond repair and needs to be torn out and repoured, let the experienced professionals at All West Surface Prep confirm this. People often underestimate the power of concrete resurfacing. Chances are you'll be surprised by the floors—and money—we can save.