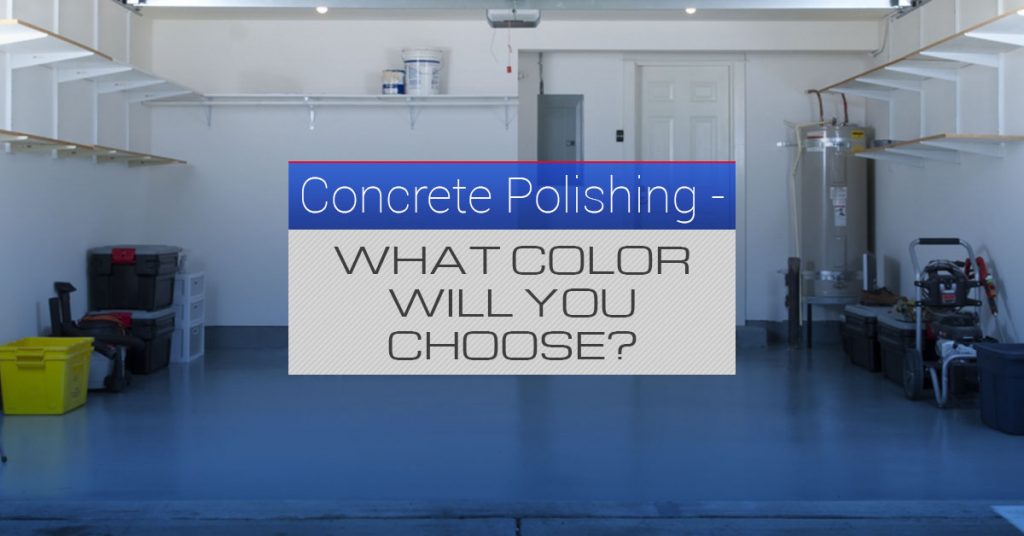 Deciding to get your old concrete floors resurfaced is a big decision. First, you have to find reputable, experienced concrete flooring contractors (if you're in the Denver area this is actually quite simple—go with All West Surface Prep!). And after doing this, you'll then have to decide on a color and design. That is, of course, if you choose to get your new floor polished or coated in a durable epoxy, which as we've mentioned can be a very wise long-term decision (check out the benefits of epoxy coating here).
With thousands of coloring and design options to choose from, picking the right color to dye your new resurfaced floor can be overwhelming, especially when you realize just how important the color of your floor can be. Even though we don't always realize it, the floors of a room can have both conscious and subconscious effects on us. They can influence our emotions, perceived size of the room, and overall mood.
To help you make the flooring decision that will benefit you and your space, All West Surface Prep would like to share a quick guide to the psychology of colors. Read on to learn more about the potential effects of your floor color choices.
Red
Red can be a bold choice for floors. It is a choice that is said to energize rooms and evoke a feeling of power, energy, and passion. Red floors are also thought to boost aggression and even increase appetite. However, too much red can be overwhelming. For example, a red floor with brightly colored walls can be overly busy and distracting. But red floors in conjunction with pale or neutral walls can have a positive, vibrant liveliness that is perfect for a restaurant or retail store.
Brown
Floors coated with warm shades of brown tend to suggest naturalness and comfort, which can create a calmness that brings security and stability to your space. It's one of the most popular industrial floor coatings. For example, rich browns are often found in fine dining restaurant because of their elegance. Similarly, lighter browns may be more suitable for more casual, more inviting restaurants.
Gray
Gray is always a safe color choice. It promotes calmness and relaxation, and it's the perfect option for those who do not want to make too much of a statement or draw attention to their floors. Though it's hard to go wrong with gray, it may not be the best choice for a restaurant because this neutral color is believed to dull appetite. However, when accented with some energizing colors, like yellow, red, or pink, it can null this effect and create an energetic vibe of diversity and creativity. Likewise, by cutting through a gray floor with a deep, dark color, like a royal blue, you can add some intrigue to the floor without making too much of a statement.
Black
Black floors are notorious for flattening a room, meaning they make the room seem much shallower and wider than it is. This effect can work when the room is filled with light-colored furniture or when there is a light object you want to draw attention to. Though black floors can appear sophisticated and refined, they can also look gloomy and claustrophobic, which is why it's important to balance out the darkness with lighter walls and accents.
Still not sure what color to pick? Don't worry the pros at All West Surface Prep can put their years of flooring experience to help make sure your commercial flooring needs are met. Check out the All West Surface Prep gallery to help generate some ideas.
White
Light floors or bright white floors can create space—well, of course, not literally. Rather, it creates the perception that the room's space is greater than it actually is. Not only do white floors seem to bounce light around the room, but they also make it feel more open. The danger of too much white is that the space can start to feel sterile or clinical. Naturally, this makes white a great choice for health practices and hospitals. If you're not looking for that clinical feel, cutting white floors with light colors and shades of blue and green can help you bring some personality and interest to the space, while not creating a strong contrast that becomes the focal point of the room.

Blue
When you choose blue as your go-to primary color, you can bring calmness and tranquility to your space. However, this mostly applies to lighter, powder blues. These lighter shades can create the illusion of adding space, making them perfect for tight spaces that you wish you could expand. Royal, dark blues can have similar effects as black, and when accented by a bright color or metallic color it can create beautiful intrigue, perfect for auto shops and modern retail stores.
When choosing the right flooring option, don't forget to factor in the importance of color. Ask yourself what colors best suit your brand and what you want to achieve. If you need help picking the most appropriate color for your floors, don't hesitate to contact All West Surface Prep. Our crews are trained by major polishing system manufacturers and have over 5 years of award-winning experience. Whether you need to find the right floor for your retail store, hotel, warehouse, or restaurant, we have a wide variety of designs, dyes, and colors that can turn your floor into a work of art that helps accomplish your goals.
Check out the All West Surface Prep color chart to get a better idea of the coatings and colors we offer!